These residential cost estimators excel sheets or construction budget templates are well designed and available in Excel, PDF, and Word format, which helps you to hit your goal. It is the best way to track and manage the flow of expenses easily. If your budget exceeds due to poor planning, it is not considered a successful budgeting plan. For that purpose, you need to track the cost of the project to avoid any financial problems. In this article, we cover all the things about the cost estimation of the project.
Budgeting is a process to estimate the amount of money you need to complete a project. If you are budgeting for a new building or construction in an existing one, then a construction budget template helps you control expenses. Get free construction budget templates from our gallery to create a comprehensive budget plan for your construction.
Residential Construction Budget Template
Construction Budget Templates
Nowadays, the construction of a building or home is not easy; it needs a heavy amount of money to complete this task. For that purpose, there is a need to estimate the cost of this construction to know how much money you need to complete this process. In this way, a construction budget template is used to put all the expenses to know the actual cost. Visit our gallery to download free residential or commercial construction budget templates in the format that you prefer. It is helpful for all the stakeholders involved in a project to know what resources a project needs to complete. See the sample construction budget worksheet to get an idea of how it works.
Budgeting the construction of a building, whether commercial or home, is not easy. You need to focus on lots of things for accurate estimation, but a well-designed template makes your work easier and allows you to add more elements that make it easier and perfect. These templates allow you to break down the expenses into a few categories like the cost of labor, material, equipment, project design, and other services needed to complete it perfectly. The project budgeting process template serves as the best tool to set the project's direction on the right foot. Better estimation leads to good budget management that plays a vital role in any project's success. An appropriate construction project budget template allows one to set the goal of the project and determine the requirement to complete it successfully. 
Types of Cost in Construction Budget
If you want better management for your project, then come up with a detailed cost estimation. When you plan expenses in a construction budget, it is divided into two categories that help you to estimate the cost of the construction project easily. You can get a better sense of estimation by dividing the cost into the hard and soft costs.
Construction Costs Estimates vs Actual Spreadsheet Template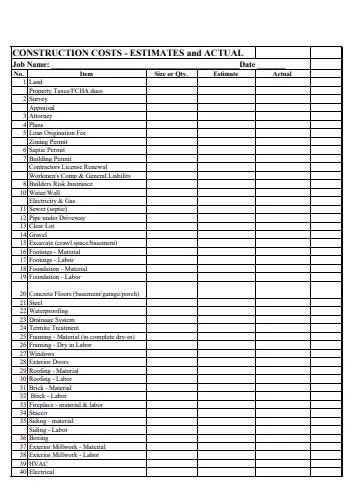 462.67 KB 1 file(s) 2 Downloads
Download
See below to know more about it.
Hard cost: Hard costs in construction are the expenses directly associated with construction things as labor and material. These expenses are easy to estimate because the things involved are fixed prices. It is easy to control the expenses when you see the differences between estimated and actual costs. In hard costs, you need to estimate the cost of bricks, labor, raw material, equipment, installation of machinery, and cost of other similar things which are tangible—for example, estimating the rental fees of equipment needed for a particular design for construction of a building or home. To calculate the accurate hard cost, you need to find the prices of materials, labor, and other physical things where this project is constructed. It is necessary because the prices of physical items vary from state to state.
Soft cost: Soft cost is also known as "indirect cost" because it is indirectly connected with a construction cost to complete it. It is not easy to estimate or forecast because it continues even after the project is completed. It is the cost of intangible things which are not linked to physical construction. The soft costs of construction projects could be the design fees, architectural expenses, inspection fees, insurance, accounting fees, and others that help support the project activities.
How to Plan Construction Budget
Delay in project completion due to the lack of resources is the biggest flaw of project management. If you are afraid of your project's failure, make a better plan to manage and organize things. One of the critical elements for your project's success is managing your expenses. 
A perfect cost estimator excel sheet helps you determine the amount you need to complete your construction project. If you don't know how to plan your project construction budget, see below to find an easy way to develop it.
Determine the task: First of all, make a list of tasks performed in your project. Break down these tasks into categories to make it more clear. With the help of this task list, it is easy to manage the expenses and helps you to understand what you'll achieve from this project. Mention all the work that has to be done in your project. 
Identify the cost of items: After making a list of tasks, it is easy to figure out what you need to perform these tasks. At this point, it is easy to identify the cost of each item that is required by project completion. Ensure about labor and material prices because it varies from state to state and industry to industry.
Estimate total cost: When you estimate the cost of each item, then it's time to calculate the total estimated account that you need to complete this project. It is the most crucial part of project management when you estimate the total cost of this project completion and share it with the project's stakeholders for further planning.
Add emergencies and taxes: The things about budgeting or estimation vary as the project develops. For safety, you should have a budget for any emergency and taxes. It helps you to handle unexpected expenses effectively.
Review and revise: The project estimation should be accurate or near the actual cost to avoid any problems regarding the project resources. For that purpose, you need to review the things to check for errors to remove.
Approved it: When you are ready with all planning, it's time to submit the budgeting plan to the project's stakeholders to get approval for the next phase. The project budgeting plan must be approved by investors; it is the last step in the project budgeting plan.
Types of Construction Budget Template
When you come in budgeting for a construction project, a well-designed template helps you make a perfect budgeting plan. In our gallery, you can find various project budgeting process templates that save you lots of time to make it from scratch and make changes as you need. There are four types of construction project templates used to make an accurate estimation.
Commercial Construction Budget Template: A commercial construction budget template is used to put details about the cost estimation and budget plan of commercial construction. Elements in commercial construction budget templates are different from other construction projects. These templates are used for budgeting or cost estimation of office buildings, restaurants, groceries stores, and other commercial construction projects.
Residential/Home Construction Budget Template: If you search for a well-designed cost estimator excel sheet for residential construction, see our collection of templates to find the best one. With the help of these templates, estimate the hard and soft costs concerning the construction of your home.
Infrastructure Construction Budget Template: In the budgeting process of highways, bridges, airports, and other infrastructure construction projects, you need a well-designed template to put details about the estimated cost. It helps to break down the project into milestones which leads to easy and accurate estimation.
Industrial Construction Budget Template: If you want a detailed document that defines the budget of industrial construction projects like large-scale warehouses and refineries, download the industrial construction budget template to elaborate on budgeting.
Tips to Create an Accurate Construction Budget
If you want to complete your project on time within the estimated cost, follow the tips below to make an accurate construction budget.
It would be best to make a task list to know what you need to perform these tasks. It helps you to provide an accurate estimation.
Try to use a well-designed template for expense tracking and cost prediction.
It would be best if you made a review of your budget regularly to know whether the project budget is in the right direction or not.
For accurate estimation, you need to find the cost of labor and material directly from the market.
Make an emergency fund in the budgeting process to handle any unexpected situation that impacts the project process.